*This post may have affiliate links, which means I may receive commissions if you choose to purchase through links I provide (at no extra cost to you). As an Amazon Associate I earn from qualifying purchases. Please read my disclaimer for additional details..
Do you have a surf dog? Teaching dogs how to surf is a great experience and you should do so if you live close to a beach.
Surfing dogs have been a thing for decades, but for Edna, the two-year-old black Lab I met out in Long Beach last weekend, it is in her blood. Edna's owner, Shawn, bought her a surfboard for her birthday. The rest is history.
She has taken to the sport more naturally than either of her human counterparts. This makes sense considering that surfing dogs must have a whole host of skills to be successful.
If you have a surf dog, how cool would it be to give them a name that reflects surfing.
Here are more than 250 great names for your surf dog:
Awesome Names for Your Surfing Dog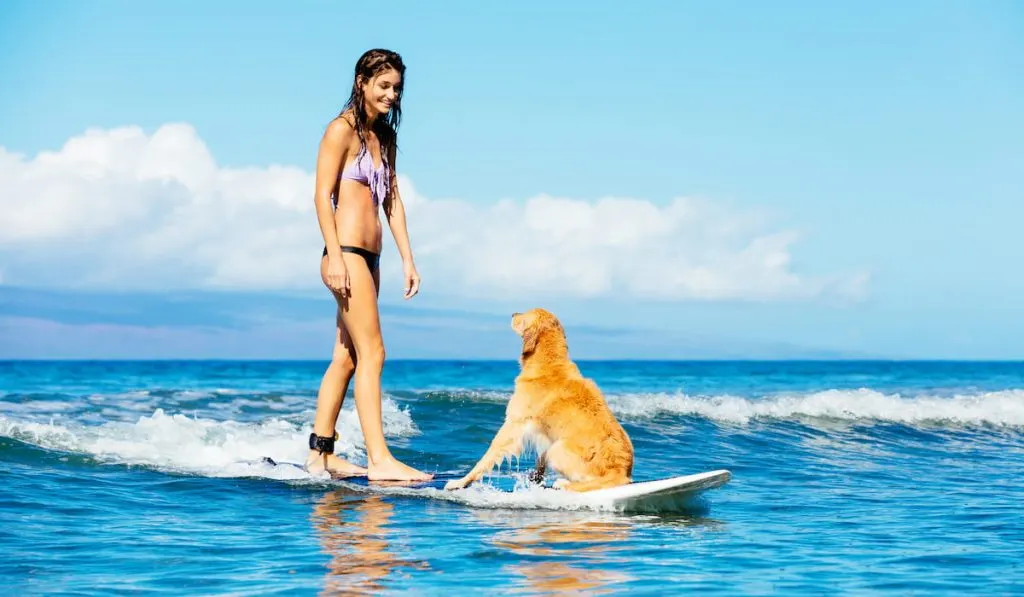 Here are some names that I recommend for your surf dog:
Poseidon: He the Greek god of the Sea. This name is great for male surf dogs.
Ricochet: She is a female dog from San Diego. She is among the first surfing dog to start the surfing dog trend.
Ariel: A popular character in the Disney movie "The Little Mermaid".
Pearl: Pearls are precious stones created by clams found in the sea. Awesome name for female surf dogs.
Thunder: This name is great for male surf dogs.
Tsunami: Do you have a dramatic pet? Here is a great name for them.
Seashell: Sea shell refers to the shells of clams, crabs, snails, and other animals found in the sea. Great name for females.
Storm: This unisex name is awesome for your surf pet.
Moana: Moana means "Ocean". Moana is a famous character in the Disney Movie "Moana".
Names for Female Surf Dogs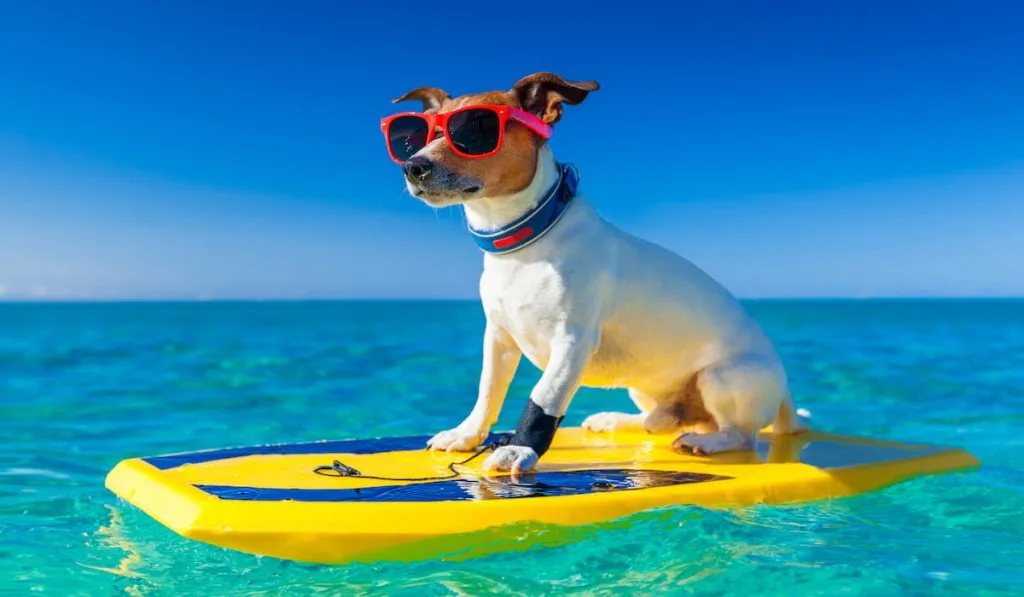 Do you have a female surf dog? Here are great names for her:
Aqua (description of water of the sea)
Aliikai (queen of the sea)
Aerial (a surfing move in which surfer meets a wave and makes a flight)
Azure (deep blue water)
Bambora (an off-shore break in deep water)
Bino (between two large waves)
Bondi (a beach in Australia)
Aroa (aroa beach is famous for their scenic backdrops)
Alaia (a surfboard made up of a wood)
Bells (famous surfing spot found in Australia)
Copa (Copacabana beach in brazil with a great view)
Chiva (a blue beach la Chiva)
Chop (a bumpy water)
Curl (the shape of waves right after they break)
Bathsheba (A Barbados beach with indescribable beauty)
Calinda (a Hindi word for sun)
Camiala (a dog that loves spending time on sand)
Names for Male Surf Dogs
Great names for your male surf dog? Here you go:
Akaw (a word that surfers call when they can see a wave)
Aggro (a word describing aggression towards waves)
Barrel (a tube-shaped wave curls)
Bambora (a large wave that breaks outside the surf line)
Blue (color of a sea)
Breaker (large waves)
Camps (a Bay beach in Cape Town)
Crusoe (Robinson cruise who got lost on an island for so many years)
Barney (a newbie)
Bogs (bogging)
Bamboo (replacing in surfboards)
Bilbo (a dog that patrolled the beaches in Cornwall)
Duke (After the father of surfing, Duke Kanahamoka)
Corduroy (some swells coming from the horizon)
Dorian (Greek word meaning sea)
Doc (the pioneer of surf culture)
Cargo (smart name for beach dogs)
Cruise (relaxing voyage on board)
Carver (an agile person)
Crest (the highest part of the wave)
More Names for Your Surfer Dog (With Meaning)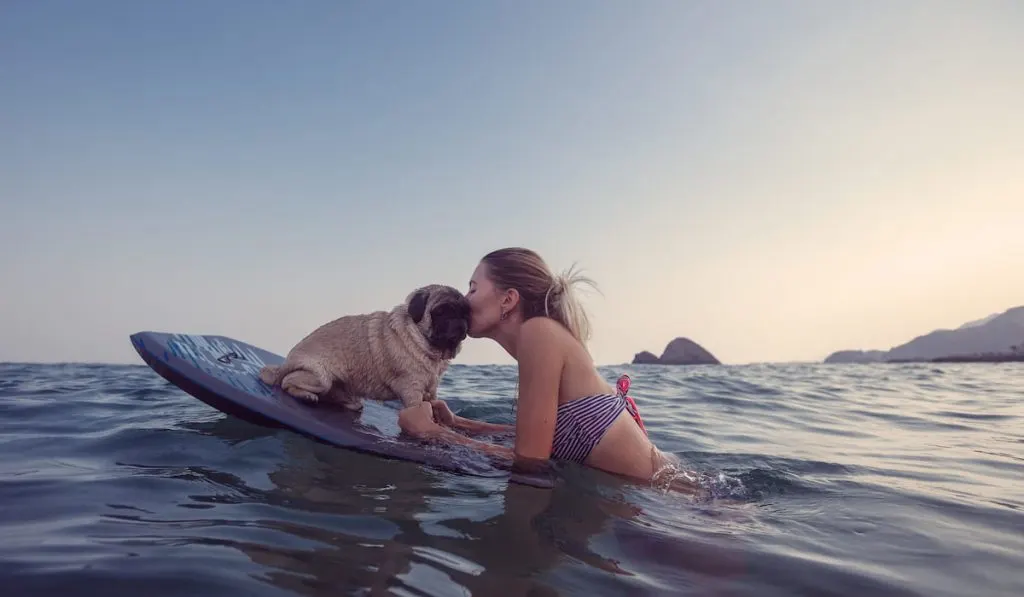 Here are more names and their meaning for your surf dog.
Kapena (meaning a captain of boards)
Maverick (the largest wave)
Maho (Maho is in beach in St. Martin)
Maui (it is the third biggest island)
Miki (Miki Dora was a king of Malibu in the 50s and 60s)
Lindquist (name of a beach)
Key west (Famous islands off the coast of Florida)
Lido (Lido beach in Italy)
Laird (after laid Hamilton)
Mack (huge or large)
Nido (El Nido beach found in the Philippines)
Pelican (a birds that are seen on beach spots)
Paddlepup (Dogs that love water or love to swim)
Reduit (famous beach found in st. Lucia)
Reef (a famous surfing brand)
Malibu (a famous beach found in California)
Narrabeen (a famous surfing spot in the northern shores of Australia)
Nungwi (Nungwi beach found in Zanzibar)
Pirate (outlaws of the sea)
Keala (Keala Kennelly is a famous surfer)
Leech (an always-needy surfer)
Moku (was a famous surfing Olympian)
Maya (Hebrew word that means water and famous surfer)
Mysto (a surfing spot which breaks away from far reefs)
Morwenna (waves of sea)
Rusty (the Cadillac of surfboards)
Lanikai (an island famous for its blue-green water)
Lanai (meaning island)
Langkawi (a beach that is famous for pirates to hangout)
Even More Surf Dog Names
Want even more surf dog names? Here you go:
Skeg
Reef
Mack
Hamilton
Crest
Bamboo
Currents
Wedge
Carver
Peak
Hurley
Duke
Balsa
Bombora
Curl
Barney
Axe
Barrel
Turtle
Bail
Corduroy
Kahuna
Wahine
Mysto
Laird
Swell
Knot
O'Neill
Miki
Sandy
Cruise
Pearl
Blue
Shippy
Gaffs
Hook
Frigate
Leech
Windy
Dora
Carena
Davit
Magellan
Walty
Salty
Lil Yachty
Hank
Lee
Matey
Bitt
Wharf
Timber
Waves
Taffy
Dory (a small shallow boat)
Skipper
Sky
Martin
Fiddley
Splash
Rivers
Marina
Dunkie
Morgan
Bowers
Stormy
Dodger
Del Mar
Portia
Moby
Lazar
Bowie
Aqua
Boatswain
Sinbad
Bitsy
Jack (Sparrow)
Scuba
Sprinkles
Peter
Sunset
Scuttles
Schooner
Guppy
Keelie
Annie
Sailor
Puffer
Spanky
Brizo (a Greek goddess of sailors)
Snotty
Mizzy
Captain
Knots
Turtle
Queenie
Stemson
Lagoon
Doc
Jack
Marlin
Lita
Admiral
Swabs
Decker
Gallant
Sails
Gill
Pirate
Beachy
Diver
Breezy
Tacky
Floats
Neptune