*This post may have affiliate links, which means I may receive commissions if you choose to purchase through links I provide (at no extra cost to you). As an Amazon Associate I earn from qualifying purchases. Please read my disclaimer for additional details..
Are you a female surfer? You would surely need a cool and cute surfing name for yourself. Even if you are not a surfer, you may still need names related to the beach to name your daughter. It would make a lot of sense to have a surfing name if you live in coastal areas.
Here are more than 210 girl surfer name ideas for you:
Popular and Recommend Names for Female Surfers
I recommend the following names to you because they are popular and cute:
Ariel: Ariel is a Disney princess in the movie "The Little Mermaid". She is a pretty little mermaid.
Sandy: "Sandy" is a cute form of "Sandra". You can say puns like "Sandy Crush" instead of "Candy Crsuh". Sandy also has "Sand" which is a major part of beaches. Cute name, right?
Pearl: Where else can you find pearls if not in the ocean? Surfers are likely to find pearls. You can as well be a beautiful Pearl.
Pebbles: Pebbles, sands, and shells are found all over the beach. "Pebble" is a pretty name for a pretty surfer like you
Coral: Corals are the marine beauty of nature. They are not just beautiful, they help to accommodate so many kinds of marine creatures. Why not be a "Coral"?
Cute Nicknames for Female Surfers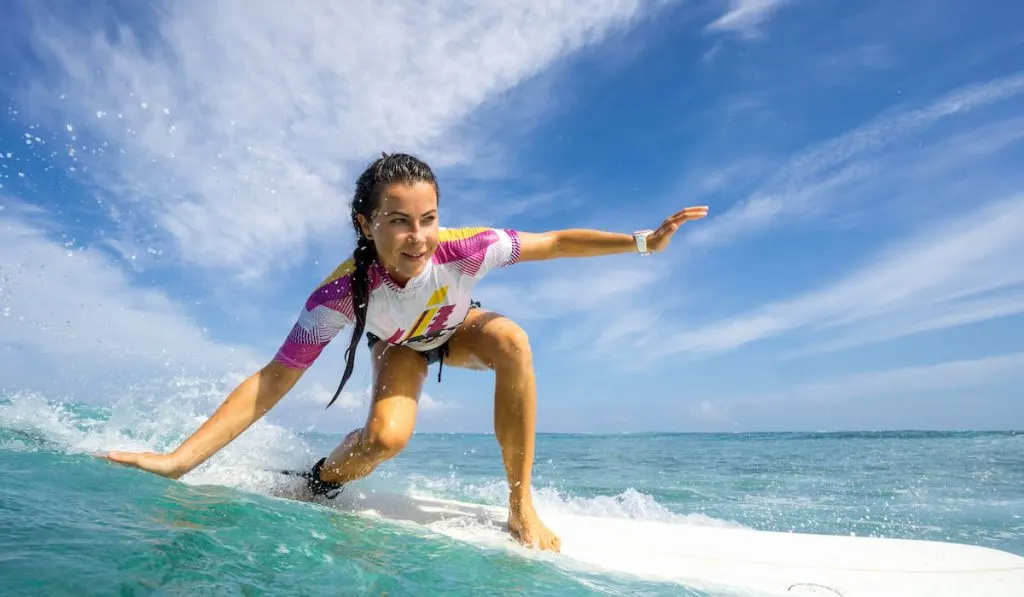 If you are a female surfer, you'd surely need a nickname. Here are some:
Clam: Mollusks in the sea that produce pearls.
Bloom: Refers to algal blooms.
Damsel: Are you a damsel or not?
Dolphin: Who does not want to be a dolphin?
Jelly Fish: Marine invertebrates that are more than 95% water.
Plankton: Minute organisms that drift along the sea
Sea Lioness: Female term for a sea lion
Names of Popular Female Surfers
Want to name yourself or your daughter after a popular female surfer? Here are some great examples:
Bailey Nagy
Tatiana Weston-Webb
Meah Collins
Tia Blanco
Maddie Peterson
Mahina Meada
Brianna Cope
Caroline Marks
Sage Erickson
Carissa Moore
Stephanie Gilmore
Frankie Harrer
Brisa Hennessy
Bethany Hamilton
Wendy Botha
Tyler Wright
Ellie-Jean Coffey
Layne Beachley
Lisa Andersen
Frieda Zamba
Lakey Peterson
Tatiana Weston-Webb
Johanne Defay
Courtney Conlogue
Sally Fitzgibbons
Nikki Van Dijk
Coco Ho
Paige Hareb
Keely Andrew
Bronte Macaulay
Silvana Lima
Caroline Marks
More Female Surfer Names
Want more names with their meaning? Here you go:
Aukai: Hawaiian word meaning "explorer of the sea"
Azure/Azurine: A French name for girls that means "sky-blue"
Bahari: "Ocean "in Swahili
Aberdeen: It means "mouth of the river"
Adira: Hebrew origin that means strong, majestic, or noble
Anthia: A Greek name meaning "lady of the flowers"
Beck: English word that means "mountain stream"
Daria: Meaning "sea" in Persian
Bloom: After the algae blooms
Delmare: French word meaning "of the sea"
Diana: After Diana's Conch
Ezili: After the Benin (West African) goddess of water, beauty, and love
Galia: Hebrew word meaning wave
Dipsi: Means "Ocean" in the Bislama language
Doria or Dorian: Greek word meaning "of the sea"
Hama: Japanese word for "shore"
Masika: Egyptian word for "born during rain."
Maurea: After a sea shell
Makara: A mystical creature of water in Hindu.
Mazu: Goddess of the sea in Chinese mythology.
Samudra: Indonesian word meaning "ocean".
Sedna: Inuit goddess of the sea.
Slender: After a tuna species.
Nahla: Arabic for "drink of water."
Pavati: Hopi for "clear water."
Tasi: Means "ocean" in the Chamorro language.
Ula: Sea jewel
Umiko: Japanese word meaning "child of the sea."
Varuna: The god of water and oceans in Hindu.
Zale: Greek for "strength of the sea."
Adriatic: After the Adriatic sea in the Italian peninsula
Brooke: A tiny stream
Kai: Hawaiian for "sea"
Lana: Hawaiian word meaning "calm as still waters"
Eldoris: A Greek name that means "of the sea"
Haf: Icelandic word meaning "ocean"
Ridley: A little tropical sea turtle
Manami: Beautiful, Love, Ocean, Affection, or Sea.
Maria: Of the sea
Marina: A harbor for small-sized boats
Meri: Finnish for "sea"
Mariam : Star of the sea
Marieanne: Star of the sea
Mariella Star of the sea
Marine: From the sea
Maris: Of the sea
Marissa: Of the sea
Marilla Shining sea
Marina From the sea
Marinda: From the sea
Mariza: Of the sea
Marybell: Star of the sea
Andrina : Manly, virile
Aqua: Water
Aquaria: Of the Water
Maryse: Of the sea; star of the sea
Adella: Noble; noble kind
Alana: Little rock
Aquata: Water
Ariel: Lion of God
Attina: Wise
Bay (resembles bae): Curve of land surrounding the ocean
Breezy: Windy
Arista: The best
Aruba: Loves her husband so much
Even More Names for a Female Surfer
Here is an endless list to choose from. Hopefully, you will get the perfect name from this list:
Cordelia
Heart
Bertha
Blue
Bondi
Cod
Compton
Lunan
Magdalene
Margaret
Myrtle
Conch
Huntington
Langkawi
Omura
Saunton
Shelly
Storm
Natadola
Negril
Wash
Wave
Dune
Diondra
Abalone
Alessandra
Amara
Aruba
Coast
Britney
Talulah
Hannah
Summer
Lily
Leah
Aurora
Aleena
Baiji
Blue
Lelani
Lacy
Sapphire
Aqua
Cascade
Bella
Celia
Dahlia
Deliria
Delta
Eibli
Cherry
Cinnamon
Coralia
Evian
Gail
Glory
Indian
Jenny
Marlowe
Maya
Misty
Mariana
Marilla
Nerissa
Ocean
Ophelia
Orca
River
Scarlet
Shimmer
Sia
Pacifica
Paradise
Periwinkle
Queen
Sidra
Sirena
Star
Willow
Sunshine
Swan