*This post may have affiliate links, which means I may receive commissions if you choose to purchase through links I provide (at no extra cost to you). As an Amazon Associate I earn from qualifying purchases. Please read my disclaimer for additional details..
What do new parents and new surfers have in common? They need a name. Whether it's their real name or their "nickname", you want to be sure to choose something that fits both your personality and your love for surfing.
If you are a new-time male surfer or you just gave birth to a son, it will be a great idea to get an ocean-inspired or surfing-related name.
Don't worry, I already have more than 250 name suggestions for you.
Popular Names for Male Surfers
Want very cool names for a surfing male? Here are my recommendations:
Blue: Refers to the color of the ocean and sky. Awesome name, right?
Drake: A drake is a male duck; it is also the name of Francis Drake who is a famous naval office and ocean explorer
Bay: Bay is a body of water in a shore that is partly enclosed by a curved land.
Beckham: Meaning "Home by the stream". It is a great masculine name
Fury: This name (also makes a great nickname) refers to the violence of the sea and also how confident expert surfers are.
Popular Nickname for Male Surfers
The names below are suitable nicknames for surfers. Guess what, some are nicknames of real surfers!
Great white
360
Owl
White lightning
Thunder
Barney
Magician
Oma Bird
Mineirinho
Lana
Lil' Tiger
Durbo
Midget
Damo
Kong
Twiggy
The Magician
Owl
Big Kahuna
Zeke
Names from Real Surfers
Would you love to name your son after a popular surfer? Here are some great ideas for you:
Barton Lynch (Aussie)
Andy Irons (Hawaiian)
Clay Marzo (Hawaiian)
Butch Van Artsdalen (U.S.)
Duke Paoa Kahanamoku (Hawaiian)
Damien Hobgood (U.S)
Mickey Munoz (U.S., surfboard shaper)
Mick Fanning: Aussie)
Simon Anderson (Aussie)
Shane Beschen (U.S.)
Taj Burrow (Aussie)
Sunny Garcia (Hawaiian)
Names Related to Water, Ocean, or Beach for Male Surfers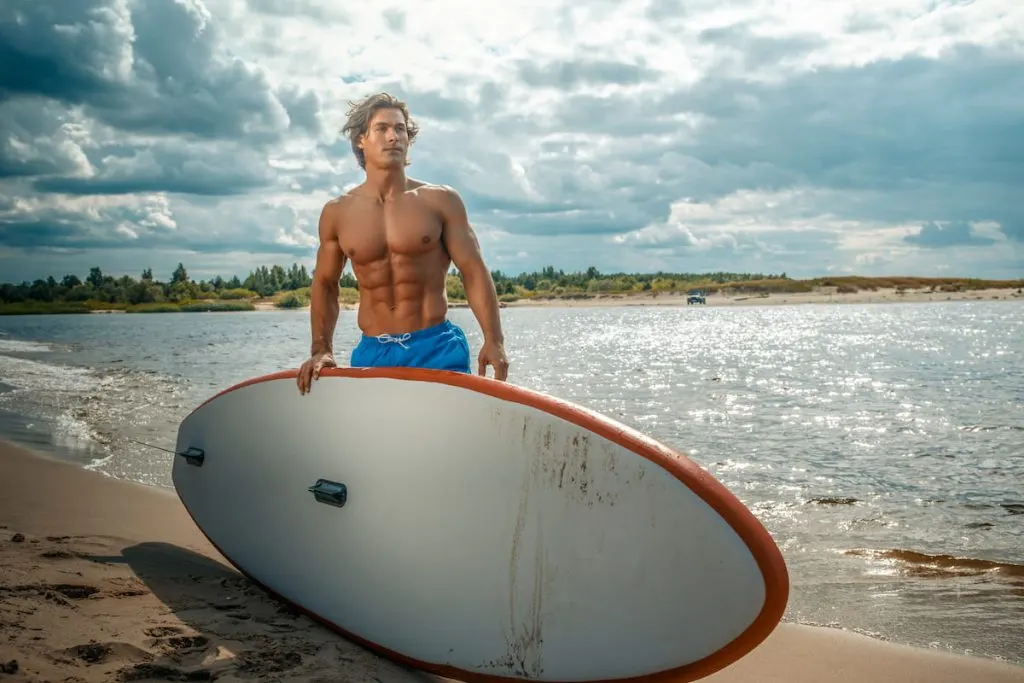 Surfing is basically a sport on the ocean. It will be a great idea to get a name that mean either the sea, beach, or ocean. Here are some examples:
Adriatic: Name after a sea in the Italian peninsula called the Adriatic sea
Brooke: A tiny stream
Douglas: Scots-Gaelic that means "dark water"
Cumberland: An island located off the coast of Georgia
Eldoris: A Greek name meaning "of the sea"
Kai: Hawaiian word meaning "sea"
Haf: Icelandic for "ocean"
Kiawah: A place in SC Island where turtles and seabirds thrive.
Meri: Finnish for "sea"
Ridley: A little tropical sea turtle
Avon: River
Brooks: Water, small stream
Bourne: Stream
Colwyn: River in Wales
Calder: Stream
Destin: By the still waters
Conway: Holy river
Dover: Water
Escott: Hut near the river
Earvin: Green, fresh water
Hali: The sea
Ford: River crossing
Havelock: Sea competition
Harford: Ford of the hares
Hudson: A river in New York
Holmes: Islands in the river
Irving: Fresh water
Hurley: Sea tide
Kenn: Bright water
Lake: An Inland body of water
Lincoln: Lake colony
Leomaris: Meaning "Lion of the sea"
Marino: Of the sea
Locke: Pond
Marvin: Sea friend
Mario: Star of the sea
Mortimer: Dead sea
Morgan: Circling sea
Murphy: Sea warrior
Murdock: The protector of the sea
Orman: Sea man
Neptune: A Roman god of the sea
Seton: Sea settlement
Tahoe: Big water
Strom: Brook, stream
Wiley: Well-watered meadow
Trent: Gushing waters
Some Great Names for Male Surfers
Want more name ideas? Here are some names and their meanings:
Anapos: The god of water in Eastern Sicily
Alon: Filipino word meaning "wave"
Bellus: An Angel fish
Apam Napat: A god of fresh water in Hindu
Brishon: Born in rain
Boreal: Extinct ocean
Bruce: Name after Bruce Lee (meaning be like water)
Cliff: Located near many oceans or places with water
Conway: Welsh name meaning "from a holy river"
Coburn: Meaning "where streams meet"
Firth: Arm of the sea
Earwyn: Friend of the sea
Glan: Welsh word meaning "from the shore"
Hanno: A Phoenician explorer of the oceans
Hurley: Irish for sea tide
Hector: A species of dolphin
Jonah: A man from the Bible who got swallowed by a very big fish
Jaladri: Sudanese word meaning "ocean"
Kuril: Trench
Kelby: Gaelic word meaning "place by the fountain"
Kuroshio: Ocean current
Kyle: Scottish surname that means "channel or strait"
Lotan: A Canaanite sea monster
Lir: god of the sea in Irish
Maury: Sea channel
Maris: Of the sea
Okeanos: Ancient Greek word meaning "ocean"
Murdoch: The protector of the sea
Pelagic: Greek word meaning "ocean"
Roger: Just like Jolly Roger
Regal: After the Regal Angelfish
Solomon: Underwater ridge
Ryuku: Islands in Japanese
Tethys: An ancient ocean
Tasman: After the Tasman Sea
Tiger: After the tiger shark
Wet: A unique name but definitely a bit spot on
Turbo: Do you remember the cartoon about a snail that can move very fast?
More Names for Male Surfers
Here are even more names for male surfers:
Cody
Hayden
Hudson
Sean
Connor
Blake
Jake
Cove
Brody/Brodie
Luke
Hayes
Taj
Jett
Keefer or Keifer
Tyde
Brody
Bondi
Langkawi
Lunan
Magdalene
Margaret
Cod
Compton
Conch
Huntington
Myrtle
Natadola
Negril
Shelly
Storm
Saunton
Wave
Eddy
Marella
Coast
Britney
Diondra
Aden
Kent
Dune
Pebbles
Aruba
Amberjack
Anson
Archer
Blake
Brandon
Bryde
Bryde
Atoll