*This post may have affiliate links, which means I may receive commissions if you choose to purchase through links I provide (at no extra cost to you). As an Amazon Associate I earn from qualifying purchases. Please read my disclaimer for additional details..
If you have kids who enjoy surfing, you will definitely want to get them the best surfboards. Not only because you want them to be safe but also because you want them to enjoy the experience as much as they can.
You probably already know that surfboards come in various sizes, designs, and materials. Considering this fact, you may have a hard time making the perfect choice for your child. But not to worry, we have done the researching and selecting for you.
The information in this article includes a list of some of the best surfboard for kids. We also discuss how you can pick the right size and how much you might spend.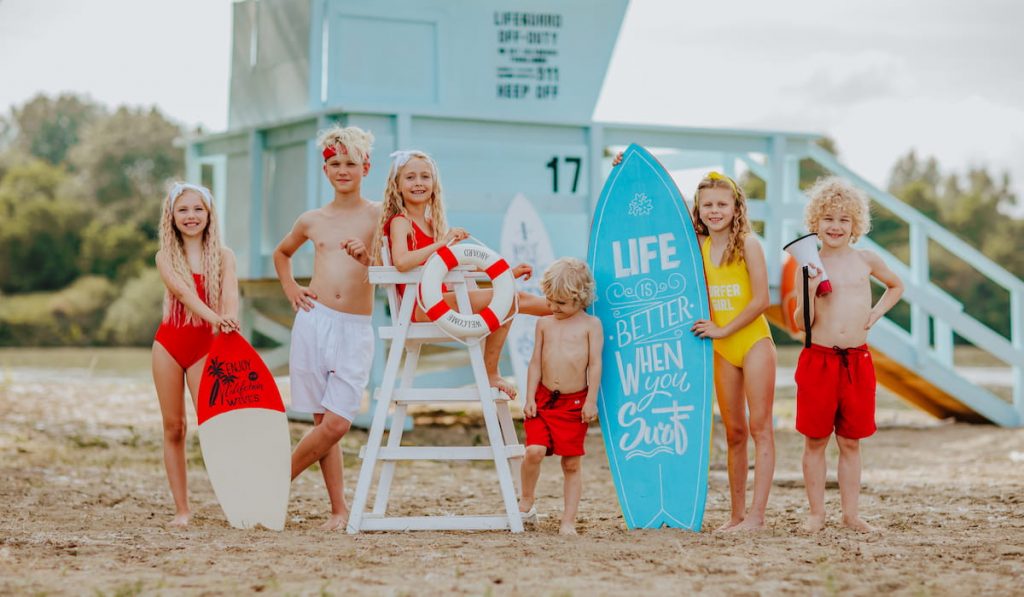 How to Choose the Right Surfboard for a Kid
When choosing surfboards for kids, you definitely want to prioritize safety. But you must still ensure that the board is fun enough for them to like it.
Choosing the right surfboard for a kid is not really a tough task. Certain factors determine whether a board is right for a child or not. Work with these factors, and you should be able to choose the best surfboard for your kids.
Surfboards for Children Younger Than 6 Years Old
The number one thing to consider while choosing a surfboard for a child is age.
For kids younger than 6 years, the best thing you can get for them is a boogie board or bodyboard, not a surfboard.
Surfboards for Children Between 6 and 12 Years Old
For children between ages 6 and 12, a foamie surfboard would be perfect. Foamie surfboards are soft, so even if kids slip and fall on them, they will not get hurt.
Foamie boards are usually 5'6" or longer. For kids within this age range, a surfboard around 6-7 feet in length will do.
As the kids improve, you can get them a 6'2" – 6'6" fish surfboard. Fish boards help ease the development of their skills as they get better.
Besides board softness and height, you should also pay attention to floatation. You should get a board that floats well enough so the child will not need to paddle.
Surfboards for Children Between 13 and 18 Years Old
For kids in this age range, you may still opt to get them a foamie surfboard. But you can also get them a mini mal or a fun board.
Alternatively, if the kid is pretty skilled, you could get a classic fish. A surfboard with a length between 6'8" and 7'2" would be perfect for them. Also, look for a surfboard with a wider base.
You should also consider weight and height when choosing a surfboard for teenagers.
Figuring Out the Right Size
The table below can guide you as you try to figure out the right surfboard size for your child:
| | | | |
| --- | --- | --- | --- |
| Child's Weight (in pounds) | Foamie/Softboard Length | Mini-mal Length | Fish Surfboard Length |
| < 66 | 5'6″-5'8″ | – | – |
| 66-88 | 5'8″-6'2″ | – | 5'8″-6'2″ |
| 88-110 | 6'2″-7'0″ | 6'8″-6'10″ | 6'2″-6'6″ |
| 110-132 | 7'0″-8'0″ | 6'10″-7'2″ | 6'6″-6'10″ |
| 132-154 | 8'0″ | 7'6″-8'0″ | 6'10″-7'0″ |
| ≥165 | – | 8'0″-8'6″ | – |
| | |
| --- | --- |
| Child's Height (in feet) | Surfboard Size Range (in feet) |
| ≤4 | 5'6″ |
| 4-5 | 5'8″-6'2″ |
| 5-6 | 7'0″-8'0″ |
Cost of Surfboards for Kids
The cost of surfboards for kids differs depending on the brand and a couple of other factors.
Nonetheless, a decent kids' surfboard would fall between $100 and $250. A bodyboard, on the other hand, will go for less. The price of a decent bodyboard would fall between $50 and $120.
Best Surfboards for Kids
Here's a product-specific list of some of the surfboards (and bodyboards) you can get for kids:
BPS Storm Bodyboard
The BPS Storm Bodyboard is made with a lightweight yet durable extruded polystyrene core (EPS). This makes it pretty buoyant and favors floatation.
In the pack, you will find a bodyboard, a leash, and 2 fin savers. With the leash and fin savers, the kids can surf with almost no chance of losing their board or the fins.
BPS Storm Bodyboards have a well-polished bottom that facilitates gliding and increases speed. The crescent tail at the base of the board adapts well to the body.
Own the Wave Super Lightweight Body-Board
The Own The Wave bodyboard, also called Beach Attack Pack, comes with a leash and 2 fin tethers. Your child can surf without worrying too much about losing the board or fins.
This board is made with a lightweight yet durable material. The child should get a lot of use out of the board. The HDPE bottom offers slickness that promotes speed, smoothness, and maneuverability. The crescent tail fits the body well and allows for various types of riding.
All in all, with this board, the child should get a lot of control, speed, and efficiency.
Bo-Toys Body Board Lightweight with EPS Core
The Bo-Toys Bodyboard is revered for its durability. It is made from high-density polyethylene (HDPE), which offers some slickness alongside durability. With the slick bottom, you can expect speed and easy control.
This board comes with an EPS core. This makes it lightweight, making it buoyant and offering floatation.
The board is available in 4 colors: blue, red, green, and pink. This can make it fun for kids to choose a vibrant board.
Another great feature of this product is the heat lamination technology. This feature coats the surface of the board and contributes to the overall durability of the board.
The 60/40 rails allow users to show off their skills and control the board easily. There's also a leash to prevent the board from getting lost.
South Bay Board Co. 6' Beginner Foam Surfboard – Soft Top Surfboard for Kids
This 6-foot guppy board has an EPS foam core that keeps out water. This core also provides buoyancy, allowing the board to stay afloat. This South Bay Board Co. can carry up to 100 pounds.
This surfboard measures 72" (6 feet) in length, 21" in width, and 3" in thickness. These dimensions make it easy for kids to paddle and maneuver the board. The width allows easy popups, and the thickness contributes to buoyancy.
The board has 2 wooden stringers that add strength to it. The product comes with an EZ carry handle, a 6-foot leash, and 3 surfboard fins.
Giantex 6′ Surfboard Surfing Surf Beach Ocean Body Foamie Board
This product combines an HDPE-bottom, EPS core, EPE deck, and a top foam to ensure durability. Besides contributing to durability, the slickness of the HDPE bottom also allows for easy control and speed.
The board is available in 3 color combinations: blue and white, blue and red, and blue and yellow. The board comes with a transaction pad and free leash, which provide convenience, safety, and comfort to the rider.
The Giantex 6-foot surfboard comes with 3 detachable fins. These fins provide more traction, hold, and rail-to-rail surface area.
The board, which measures 72" x 20" x 3", can carry as much as 200 pounds.
Best Choice Products Surfing Surf Beach Ocean Body Foamie Board Surfboard
This board is lightweight, weighing around 6 pounds. It measures 72" x 20.5" x 3.5" and can support up to 150 pounds. It is a decent option for both children and adults, and it is quite buoyant, too.
This product comes with 3 detachable fins. These fins make the board easy to control and offer more surface area. Since the fins are removable, carrying the surfboard around will not be as difficult.
On the surface of the board, there is a traction pad. This pad allows for easy popups. It also makes showing off your skills easy. Besides the traction pad, there's also a free leash, which provides extra security while on the board.
The bottom of the board is made from HDPE. Being slick at the bottom, the board has some speed and maneuverability to it.
Wavestorm 8′ Classic Surfboard
The Wavestorm 8-feet Classic Surfboard comes with an EPS core. Alongside the 3-stringer system, the EPS core makes the board durable. The board is a classic soft foam surfboard measuring 96" x 22.5" x 3.25". It weighs about 11.5 pounds and can support up to 200 pounds.
Since the top deck of the board is made from soft foam, the chances of getting injured on collision with it are extremely low.
The board comes with a differently textured traction pad. The traction pad helps with control as try popups and special skills on the board.
This product comes with 3 bolt-thru fins strongly attached to the surfboard. The fins can be removed to allow for easy transportation of the board. There is also an ankle leash to fasten the board to the surfer's leg. Like the fin, the ankle leash is removable.
The bottom of the Wavestorm 8′ Classic Surfboard is HDPE. You can expect a smoothness that promotes gliding and speed. The HDPE bottom also helps maintain the shape of the board by providing some stiffness.
Resources