*This post may have affiliate links, which means I may receive commissions if you choose to purchase through links I provide (at no extra cost to you). As an Amazon Associate I earn from qualifying purchases. Please read my disclaimer for additional details..
Dog owners love to name their pets after famous people, like presidents, musicians, and movie stars. But what about outdoor sports?
We took a look at some of the most popular outdoor activities and came up with names for your water dog that are equally fun and adventurous.
If you're lucky enough to live near the sea or somewhere with a lot of lakes and rivers (the source of most of our water), your dog will love splashing around in the water.
If you need some inspiration for naming your water-loving pup, here are more than 280 great water dog names to consider.
Popular Names for a Water Dog
Here are cool and popular names that I recommend for your water dog:
Dory: Meaning "A small and shallow boat". Dory is also a character in the movie Nemo.
Admiral: A high ranking officer in the navy. Great name for male water dogs.
Beacon: A light or fire source which acts as a warning or signal. A source of hope.
Buoy: A floating object that is used to save drowning people or for navigation.
Coral: Sedentary animals that that grow in a coral reef. Suitable for female water dogs
Ariel: A Disney princess in the movie "The Little Mermaid". Awesome name for your female water dog.
Male Water Dog Names
Do you have a strong male water dog? Here are great name suggestions for him:
Laiken: Gaelic word for lake
River: A large body of water that flows to the ocean
Reef: A ridge of rock and coral just beneath the surface of water
Splash: Making waves in puddles. Many dogs love splashing water.
Neptune: A Roman God of the Sea
Kawai: Meaning "coming from water" in Hawaii
Zale: It means "Strength of the sea"
Jordan: Means "Flowing down"
Rio: A Spanish word for "River"
Ahoy: A nautical term that is used to call out to people
Female Water Dog Names
Need pretty names for your female water dog? Here you go: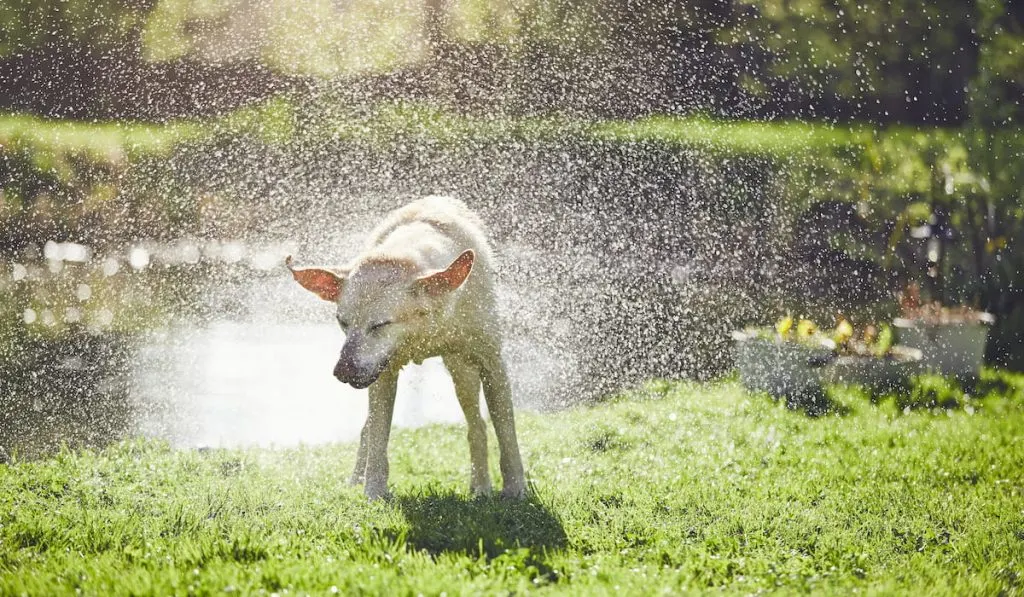 Aquarius: The Zodiac sign associated with water
Maya: Hebrew word that means "brook"
Moana: A Disney princess in the movie "Moana". Moana means "Deep ocean" in Hawaiian
Aqua: A word associated with the ocean and water generally
Talise: Means "Lovely water"
Spring: A natural water well that is formed when underground water gets too full and flows to the surface.
Atlanta: A name resembling the Atlantic Ocean
Brook: A little flowing artery of water
Maris: Meaning "Of the sea"
Rain: Water drops from the sky
More Water Dog Names
Here are more name ideas and their meanings for your water dog:
Astern: Going towards the back of a ship (Stern)
Anchor: A heavy object that keeps a boat from drifting off shore
Arctic: A very cold place
Bailer: An item that is used to remove water that leaked into a ship
Baleen: A special type of whale (marine animal)
Bait: Small attractant used at the end of fishing lines to catch fishes
Baltic: Just like the Baltic Sea
Barnacle: A marine arthropods that attaches itself to different substrate just like the base of a ship.
Beach: Land area close to the sea
Bass: A special type of fish
Bay: A broad area of the ocean where the land around it curves to almost enclose it.
Berth: The sleeping area in a boat
Black Beard: A legendary pirate
Bell: In ships, a bell that is attached to a buoy.
Boomer: Slang term for "ballistic missile submarine"
Cadet: A young student training for any position in the police or armed forces
Breezy: Popular dog name for female meaning "wind" or "mild wind".
Canal: A narrow man-made water passageway just like the Panama Canal
Cargo: Goods or items carried on a ship
Canoe: Small boat
Captain: The person that commands a ship
Compass: An instrument that can locate the North Pole. It usually has a magnet.
Corporal: A low ranking non-commissioned officer
Convoy: A group of ships that are traveling together
Crew: People that work in a ship
Diver: Someone who goes deep in the sea with scuba gear
Cruiser: Someone who cruises
Cutter: A small boat
Even More Name Ideas for Your Water Dog
You'd surely find a great name in this list:
Admiral
Aqua
Bailer
Ahoy
Alee
Alpha
Banyan
Barge
Tack
Tackle
Barque
Tally
Teak
Tidal
Tiller
Tiki
Tell Tale
Tango
Tender
Trawler
Tye
Beacon
Bear
Beach
Trimmer
Tug
Tuna
Beaufort
Bermuda
Bight
Bluto
Bobfly
Bimini
Blackbeard
Boomer
Bowman
Bravo
Breezy
Bugeye
Bosun
Bounty
Bower
Buoy
Brig
Horatio Hornblower
Ishmael
Jack Sparrow
Ahab
Ariel
Billy Budd
Jonah
Morgan
Nemo
Sinbad
Cable
Caboose
Old Man
Popeye
Pugwash
Queequeg
Canoe
Cap'n Crunch
Capstan
Captain
Charon
Chessie
Caravel
Castaway
Catalina
Chief
Chine
Commodore
Clipper
Coaster
Corona
Corsair
Dandy
Dantes
Davit
Dazzler
Cruiser
Cuddy
Cutter
Deadeye
Derrick
Dover
Driver
Catfish
Crabby
Dolphin
Dunsel
Barnacle
Bass
Guppy
Krill
Lizard
Sandy
Shrimpy
Sky
Stormy
Marsh
Otter
Pelican
Riptide
Sunfish
Thunder
Windy
Zephyr
Canal
Channel
Choptank
Cove
Bay
Bayou
Harbor
Lagoon
Ocean
Anchor
Baggywrinkle
Ballast
Puddle
River
Severn
Batten
Block
Charley Noble
Chock
Clew
Bobstay
Boomkin
Burgee
Cog
Comber
Compass
Fantail
Fid
Genny
Genoa
Cringle
Dodger
Drifter
Fairlead
Grommet
Gunwales
Jiblet
Kellet
Lazaretto
Halyard
Hitch
Iron Mike
Jib
Mizzen
Oakum
Scupper
Sextant
Skeg
Pennant
Pintle
Rudder
Turnbuckle
Painter
Papa
Spinnaker
Taffrail
Topsail
Traveler
Pawl