*This post may have affiliate links, which means I may receive commissions if you choose to purchase through links I provide (at no extra cost to you). As an Amazon Associate I earn from qualifying purchases. Please read my disclaimer for additional details..
As more and more women are getting into the sport of surfing, style, functionality, and quality are factors when looking for surfwear.
There are a lot of types of surfwear that a girl can use while surfing and it is important that the clothing is of good quality and comfortable on your skin.
You don't want to go surfing in something that wouldn't provide good coverage for you and would slip off easily.
Surfing isn't a walk in the park, rather, strong currents and swells can easily wipe you out. And in these circumstances, it is best that you have surfwear that will adhere under these strong pressures in the water.
It is essential to have surfwear that stays intact and won't come off in extreme conditions. Surfwear needs to have good coverage and a good fit on your body.
Good thing there are now a lot of surf wear options for women in different styles and fits with various designs like floral, tie-dye, color-block, and graphic prints.
There is also surfwear that has Ultraviolet Protection Factor (UPF) in the fabrics which protect your skin from the sun's harmful UV rays.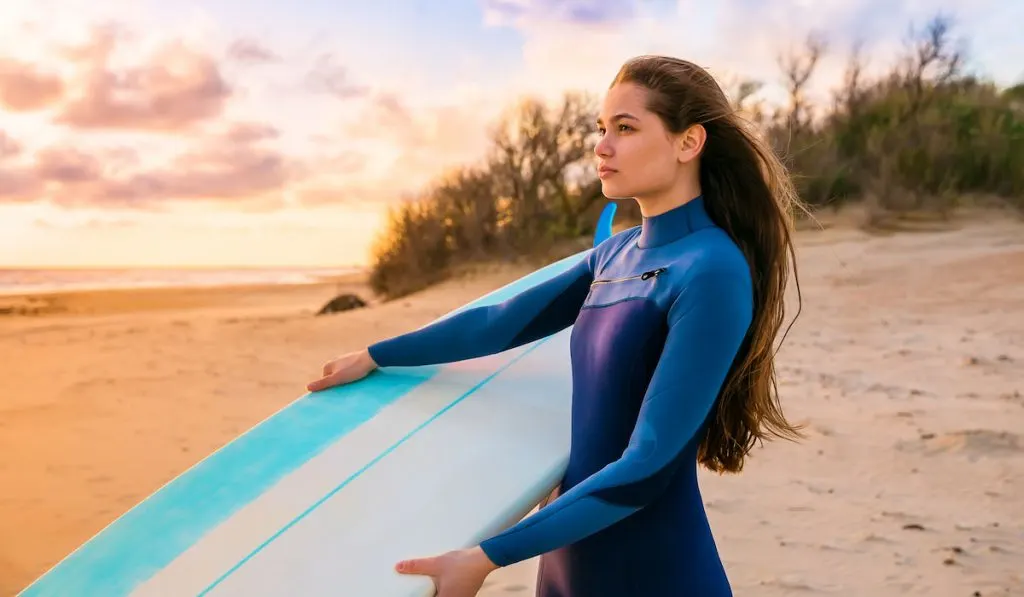 Surf without the worry and focus more on enjoying yourself in the water. Look and feel your best in the lineup with these surfwear options made for the water.
Women's Surfwear
Wetsuits
Wetsuits are usually worn in colder weather conditions.
The colder the place, the thicker and more coverage your wetsuit should have. Your wetsuit should have a perfect fit for your body type.
It shouldn't be too loose nor too snug, and shouldn't restrict your movements.
Many wetsuits are made of neoprene foam, which insulates from the cold water and helps retain the body's heat. It keeps your body warm in cold temperatures.
There are numerous new designs already on the market for wetsuits for women. Florals, tie-dyes, and graphic prints in different colors are a wonderful alternative to those dark-colored, bland wetsuits.
Swimsuits
When the weather is warm, swimsuits are good to wear for surfing. But not all swimsuits are made for surfing.
There are specific types that would suit the water's rough conditions. A good swimsuit for surfing would be durable and resistant to the power of waves and the force of wipeouts.
Spandex or nylon is a good fabric for swimwear and thicker fabrics are always better. Double-layered fabric, like a reversible swimsuit, provides additional support in the ocean.
Thicker shoulder straps are always better when choosing your surfwear. Thin straps can easily roll off when you dive and get wiped out. Choose from a one-piece or two-piece swimsuit.
Bikini or Two Piece Swimsuit
There are several bikini top styles that are good to wear while surfing.
Over-the-shoulder, racerback, and criss-cross straps will stay put in the water. Crop-top bikinis are good for girls who have larger chests, as these give you the best coverage for a bikini top.
Look for a bikini bottom that has a wide hip band as it helps the bikini bottom to stay put. A bikini bottom with a drawstring also helps to adjust your bikini to fit you perfectly.
Get a bikini bottom that is a little tighter around your hips as these will eventually stretch when you use them often.
There are bikinis designed with a fabric that sticks and grips your skin. There are also bikinis that have rubber attached to the edges to make sure it stays put.
You can pair your bikini tops with shorts or your bikini bottoms with a rashguard or a t-shirt.
One-Piece Swimsuit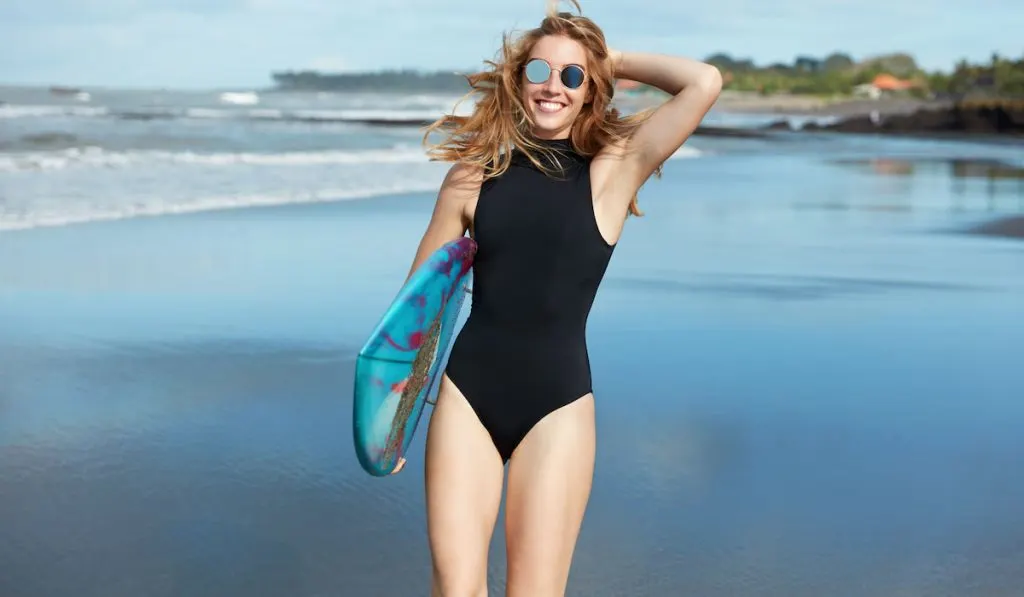 A one-piece swimsuit gives more coverage and covers your stomach and ribs to help in avoiding board rash. Thick straps and fabric material are best for extensive support.
Rash Guards
Rash guards give you coverage from the sun while surfing and protects you from board rash.
There are one-piece rash guards in cute styles with short and long sleeves, but long-sleeved rash guards would definitely give you more protection. These protect your skin from UV radiation in the open sun when you hit the ocean.
Shorts
Shorts can also be worn by girls while surfing. Pair with a rash guard or bikini top for that surfer chic look.
Look for shorts that have durable fabrics and opt for those quick-dry materials.
An elasticated waistband with an adjustable cord is recommended so you can tighten your shorts around your hips for proper support.
Surf Leggings
A good alternative to wearing a wetsuit or bikini, surf leggings give proper coverage from the sun.
They are comfortable and flexible without restricting your movements. Most surf leggings are usually made with neoprene or a swimsuit material.
Stick to fabrics that are durable in the ocean like a blend of spandex, polyester or nylon. Look for surf leggings that are moisture-absorbing, quick-drying, and have UPF protection.
What Not To Wear While Surfing
Strapless Swimsuit
These types of swimsuits don't provide support when you surf. They get pulled down when you get hit by a wave or duck dive as water carries a lot of pressure and force.
String Bikinis
String bikinis are another type of swimwear that you shouldn't wear while surfing. The thin straps on the string bikinis easily fall off when you dive and get into wipeouts.
Halter Tops
Swimsuits that have a halter-type strap can give you neck strain if you're not careful. Try to avoid halter tops as they impart unnecessary tension on your body.
A Wetsuit That Is Too Big
It is important to have the right fit and tightness of a wetsuit to your body. Wetsuits keep out the cold water.
If your wetsuit is too loose, cold water might seep inside, and it won't provide you with enough heat in the water.
Swimsuits With Accessories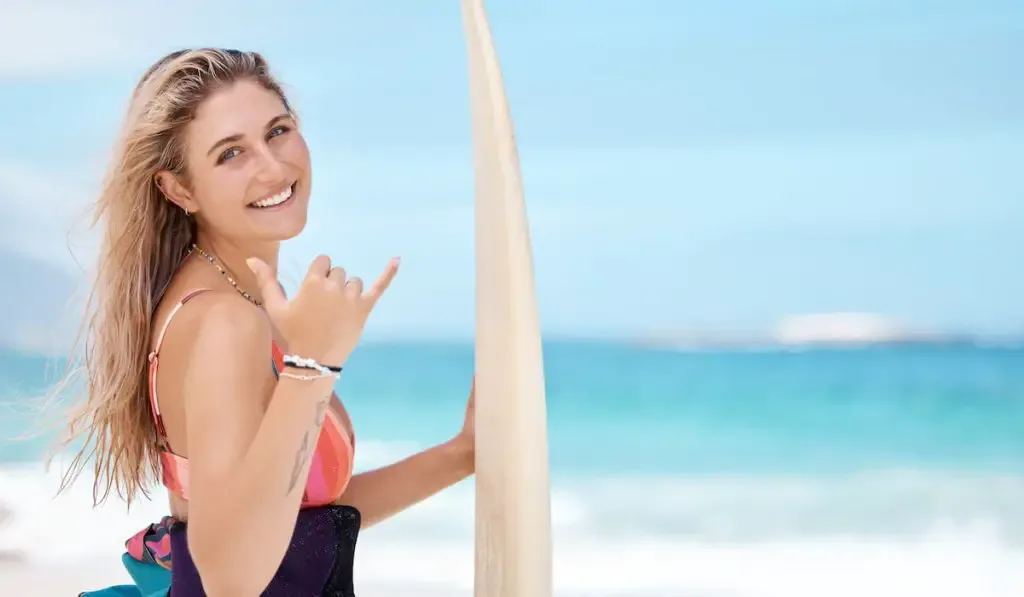 Avoid swimsuits with accessories at the front as these will be uncomfortable when surfing.
As you will be doing a lot of paddling throughout, these cute but unnecessary accessories will dig into your stomach or chest with your full weight on the board.
Front-zippered tops or bikini tops with dangling designs at the front would be painful on your chest and could also ding your board.
Swimsuits With Underwire
These are good to wear while frolicking at the beach but avoid them when you go surfing. They have the tendency to dig or poke you while laying flat on the board, making you feel uncomfortable.
Surfwear That Is Too Loose
If the surfwear doesn't have a proper fit on your body, you will waste a lot of time adjusting it while on the water. Instead of catching spectacular waves, you'll end up having to worry about your surfwear.
Short shorts that are loose can ride up your thighs or come loose, even rash guards can ride up your stomach when wearing something that doesn't fit you. Find the perfect fit and you'll be effortless in the water.
White or Light Colored Swimwear
A white or light-colored swimwear gets discolored quickly from the sand, sun, and wax. It may become see-through in the water and may lead to sunburn.
Textured Fabrics
Swimsuits that have textured fabrics like crochet, mesh, and embroidery will eventually be full of wax and sand.
Side-Tie Bikini Bottoms
Side-tie bikini bottoms roll down and there is a possibility of the knots coming undone, even if you've tied them securely. And if you tie them too tight, the ties will cut into you and give you a rash.
How To Care for Your Surfwear
Invest in good surfwear that is functional, has good coverage and quality, and fits you very well. If you find your perfect fit, it is important to take a lot of good care of your surfwear.
Rinse your surfwear as soon as possible every time you get out of the water.
Saltwater can slowly disintegrate your surfwear if you don't wash it immediately. Coldwater rinsing will help cleanse your surfwear of saltwater.
Do not hang your swimsuits in direct sun for extended periods as these fabrics will fade very quickly.
Air drying is your best option for drying your surfwear. It is recommended to hand wash your swimsuits to care for them properly.
When using a washing machine, make sure to use a gentle washing cycle and cold water. Avoid mixing your surfwear with any other hard clothing or objects that might deform or stretch out your swimsuits.
Resources: