*This post may have affiliate links, which means I may receive commissions if you choose to purchase through links I provide (at no extra cost to you). As an Amazon Associate I earn from qualifying purchases. Please read my disclaimer for additional details..
There are many factors that play a role in making your kayaking trip fun and remarkable. Sometimes making a wrong choice could ruin the whole trip. As you might not get the opportunity to be adventurous or go kayaking as often as you'd like, it is necessary to know as much about kayaking as you can when you head out on your first excursion.
What to take, what not to take, and most importantly what to wear must be well-researched factors in this case. Making the right decision regarding clothing could save your day and let you scratch kayaking off of your bucket list happily.
Here we'll mention what you should wear, and what you should not wear when you plan to go kayaking. But an often asked question is about wearing a bathing suit.
Does a bathing suit work well when kayaking?
Bathing suits are an ideal part of kayaking garb. Following is a complete guide to what should be in your selection of kayaking clothes.
Bathing Suits and Kayaking
The bathing suit was designed especially for water-based activities such as swimming, surfing, paddling, etc. So, a bathing suit could be an excellent choice when you go kayaking.
Sometimes, there are chances that you will get wet while kayaking, so a bathing suit will be more comfortable when or if you do, and it lessens the drag of the water should you become submerged.
It will also help if your kayak turns upside down and you get tossed in the water. However, the weather conditions must not be severe. In cooler temperatures, one could wear a bathing suit as an undergarment to make a base layer. In the case of warm water, only a bathing suit will work.
Bathing Suits for Beginning Kayakers?
The bathing suit should be a priority for those new to kayaking. There are more chances for a beginner to flip the kayak and get left in the water. So, a bathing suit would save them from a lot of hassle of having as many soaked clothes.
Layering Your Clothing
Following are three layers that might be necessary according to the weather conditions of your kayak excursion.
Base Layer
The base layer is a significant component when you have to go for any type of paddling. It works as a protection against skin breakouts or overexposure to the sun. Base layer clothing is made up of polyethylene knit that does not drag against the skin and cause rashes.
When one is in warm water, the biggest problem might be sun exposure. Hat and loose-fitting clothes will work the best in this case. Kayakers often wear this layer when they have to paddle in the warm weather. Ultraviolet barriers in this layer save kayakers from the scorching sun.
Insulating Layer
Paddling apparel includes a base layer, an insulating layer, and an outer layer. The root purpose of kayaking clothing is to avoid the factors which could influence you negatively.
One of the main factors is freezing water, so choose clothing that could allow you to get wet in water without getting cold. An insulating layer will suit one the best in chilly weather.
The insulating layer is added to the base layer if the weather is cold to maintain the body heat. The insulating layer includes materials such as wool, polypropylene, and fleece.
Wool
Wool is an amazing insulator. It makes you feel comfortable and warm when you use it in water. Even if it gets wet, it insulates better than other fabrics.
Polypropylene
Polypropylene is a great fabric to wear in case you find yourself in icy waters. As it does not absorb water, it permits you to stay warm and dry while kayaking.
Fleece
Fleece is an effective insulating layer as it is water-resistant.
Insulating layers enhance the static air space around the body that body heat keeps warm.
Outer Layer
This layer prevents the passage of air in and out. It also helps in keeping the trapped static air intact. Paddling jackets as an outer layer let the moisture escape from the static air and keep the body warm. A dry suit works best as an outer layer because it maintains the warm air trapped by the insulating layer.
It also prevents water from entering the layer because of its seam-sealed waterproof fabrics such as neoprene, latex necks, wrist gaskets, etc. Gore-Tex, when used in dry suits, also works well.
Wetsuits on the other hand do not help a person while kayaking. As water doesn't make a layer, it feels sticky on the dry spot and makes abrasions or rashes on the skin.
General Guidelines to Dress for Kayaking
One must follow the given instructions while kayaking:
Wear a Life Jacket
A life jacket is the most essential part of any water-based activity. Water conditions might get severe at any time. In case of a storm, your kayak might flip and leave you helpless. In that case, a life jacket or personal floating device will be there for your rescue.
If any of your layers gets displaced, it's important that you find a dry spot to fix it, instead of correcting it on water.
Choose Apparel According to Temperature
When you choose clothes for kayaking, it is important that you make a decision according to both the water and air temperatures.
For instance, do not choose a drysuit if the weather is hot, because they could be inconvenient. In case of hot weather, a bathing suit would be enough.
Choose clothes which could also save you from sun exposure. Do not forget to wear sunscreen on areas that are not covered by the fabric.
Avoid Cotton
Choosing cotton or denim would be the last thing one would want to choose while going kayaking. Cotton tends to get heavier when it gets water on it. It will create more discomfort for you while paddling.
The other reason to avoid cotton is that it takes time to dry, which can make your kayaking experience unpleasant.
Avoid Metallic Material
Sometimes the water you kayak in is salty, such as in marshy or effluvial areas. Saltwater might cause corrosion of any metallic parts on your clothing. Zippers, snaps, and other metallic fasteners can be affected.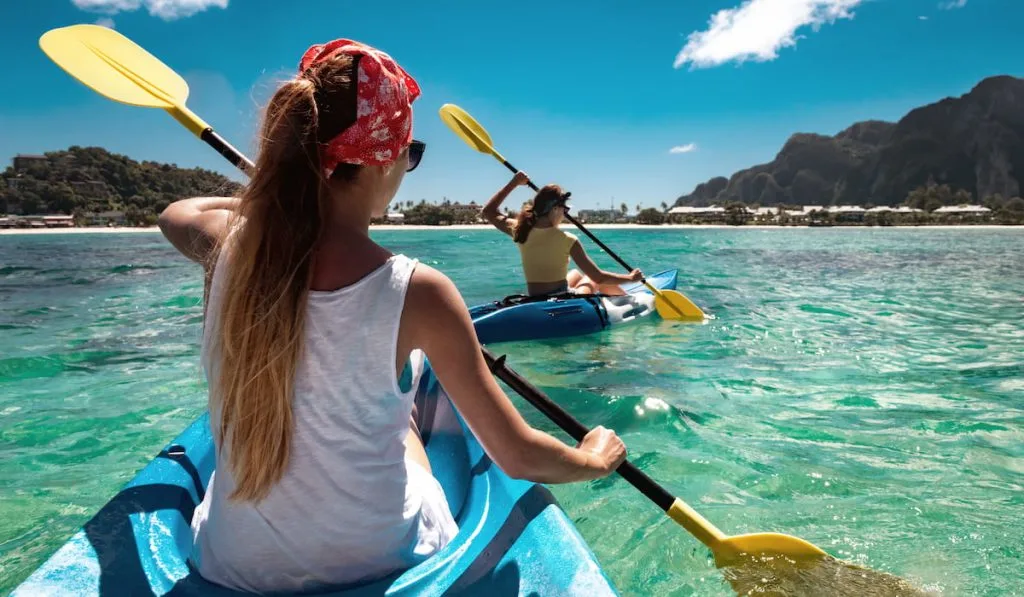 Dress For Summer
Underwear
Wearing a bathing suit as underwear works best for summer. Taking a swim during your kayaking trip can always be an option, so a swimsuit or bathing suit is an excellent choice for such conditions. It will let you have a wonderful experience while kayaking and enjoying nature.
Upper Body Attire
One should select a top that is comfortable and sun protective. Nylon or polyester are the best fabrics to wear in summer.
Long Sleeve Fishing Shirt
Many kayakers also wear a long-sleeve fishing shirt for kayaking. These shirts come in polyester fabric that dries very quickly. They have mesh panels that do not let you feel hot under the sun.
Columbia Bhama is also a fishing shirt with shorter sleeves. However, a long sleeve shirt is recommended because if the sun becomes hotter, you might just roll down the sleeves.
Bottoms
For bottoms, one might go for water-proof pants. Generic waterproof pants are meant to keep you dry throughout your kayaking experience. A neoprene drysuit is also an option.
Flexibility: Bottoms must be comfortable and flexible because otherwise paddling might be difficult and make the whole experience laborious for you.
Bagginess: It is also a crucial point to consider while choosing pants for kayaking. When you kayak on a hotter day, breathability is important, because you do not want your legs to be uncomfortable.
Adjustability: This is also a significant element to seek in kayaking pants. If the bottoms adjust well on the ankles and waist, it will make for a more comfortable trip.
Durability: Kayaking pants should always have great durability. One pair should last for several seasons.
Hiking Pants with Zip-Off Legs
Zip-off legs are a versatile option one could choose for kayaking. They provide you with a dual option to adjust the length of your pants.
For instance, you could zip off the bottom part from the pants if you want to kayak with bare legs and connect this part back if you start getting sunburn. They could also be a good option if the weather unexpectedly gets cooler, you could adjust pants accordingly.
Neck Gaiter
The neck is one of the body parts that sometimes remains naked and exposed to the sun. A neck gaiter works best for such conditions.
Some kayakers use hats and other cap options, however, they might not provide proper ear protection. Neck gaiter or buffs are amazing options in such cases. One more advantage is that if the sun becomes scorching, you might just get it wet and wear it for a cooler experience.
Floating Polarized Sunglasses
Sunglasses are a must-have for summer kayaking. In summer, kayakers have to spend a great amount of time under the sun in the glare off the water. In that case, polarized glasses would be an excellent choice for kayakers.
Polarized glasses do not let ultraviolet rays pass through them. This way one could prevent many diseases that over-exposure to the sun cause.
Sunglasses also float, so if you accidentally drop them in the water, they will take time to go down so you might just get them back. Some kayakers neglect the importance of sunglasses for kayaking and end up having a tough time on the water.
Brimmed Hat
A brimmed hat goes a long way. It is like having your own shade with you. Hats play a key role in saving you from ultraviolet rays. Some paddling locations are exposed to the sun and have no shady spot, so it might be troublesome kayaking for you if you forget to wear a brimmed hat.
Hats with a partial mesh design are preferable for your head to breathe on sunny days. The string must also be attached to the hat to avoid the hat from flying away in the case of windy days.
One thing to keep in mind is that a brimmed hat might block your view, so be aware if you have a brimmed hat when there are many boats around you to avoid accidents.
Kayak Booties
Ignoring the importance of kayak booties or adventure shoes might cost you great discomfort. If you kayak for a long time, setting your feet on a kayak paddle might cause cramps in your feet. With kayak booties, it's easier to spend more time in a kayak.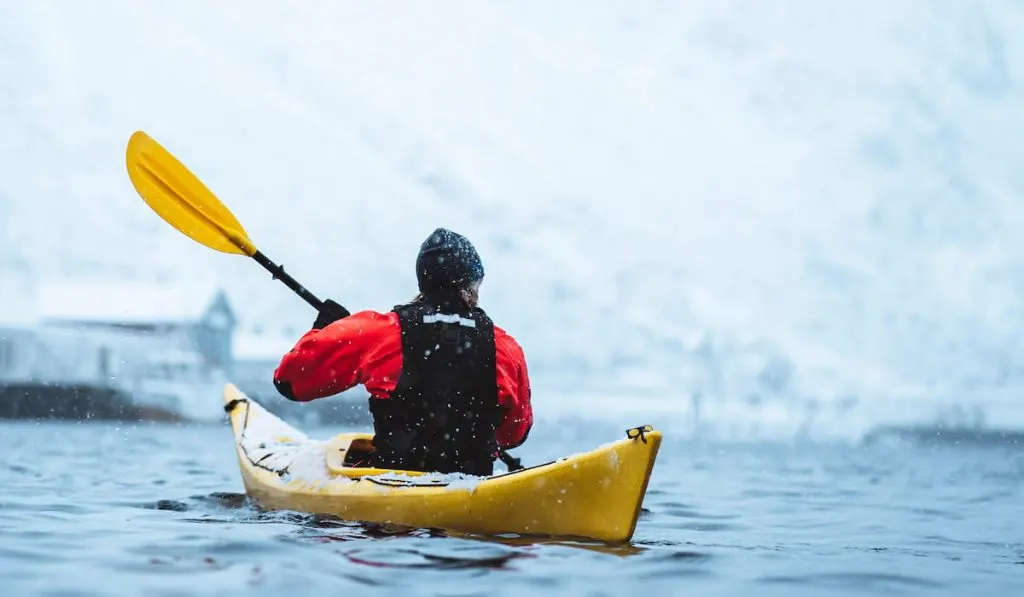 Winter Clothing for Kayaking
There is an enormous difference between winter and summer kayaking clothing. Being in cold water makes you vulnerable to hypothermia because your body will lose temperature faster than usual. So, follow the given dress code for winter kayaking:
Tops
Following is the list of clothes to choose from for the upper body.
Paddling Jacket
A paddling jacket is a viable choice of clothing for kayaking in winter. A paddling jacket with a drysuit, thermal base, and an insulating layer would be the best top attire for winter kayaking.
Layered Long Sleeve Top
A layered long sleeve top with a thermal base and insulating mid fleece layer is a good option for you for winter kayaking. One could also wear a layered long sleeve top with a bathing suit base.
Bottoms
Splash pants should be your priority in winter kayaking clothing. Waterproof/rain pants would save you from getting wet in chilly weather. Do not forget to wear an insulating layer underneath.
Gloves
Gloves must also be a part of your list when you go shopping. Being in cold water on winter days might cause your hands to go numb, so you might end up becoming incapable of moving your kayak ahead.
Shoes
Waterproof adventure shoes would do best for kayaking in colder weather.
Bottom Line
A bathing suit always works for kayaking in all weather conditions. The only change you have to make according to the weather is adding layers to it.
In cold weather, it is so important to add layers to clothing. Always do proper research while choosing clothes for kayaking or any other paddling experience because it might prove to be a make or break for your kayaking experience.
Resources