*This post may have affiliate links, which means I may receive commissions if you choose to purchase through links I provide (at no extra cost to you). As an Amazon Associate I earn from qualifying purchases. Please read my disclaimer for additional details..
As a surfer, you most probably consider your surfboard when getting a car.
Unless you intend to walk all the way to the beach with your board in hand, getting a car that can help transport your board would come in handy.
If you live far away from the beach, you most definitely will not enjoy going there on foot with your board in hand.
However, if you have an unsuitable car (such as a small car), going to the beach with your board may still be an issue.
The good news is you do not have to worry about getting the wrong car.
We're going to take a look at considerations for surfboards when car shopping and make some vehicle recommendations for the best cars for surfers.
What to Look for When Buying a Car to Carry Your Surfboard
Let's start by discussing the features to look for when buying a car with surfboard transportation in mind.
One of the vital features to look out for in a car to carry a surfboard is cargo space. Surfboards may not be heavy, but they are bulky and long.
Surfboards are usually quite long, with lengths of over 7 feet in many adult-sized boards. They are also typically wide with many measuring over 20 inches.
You can expect them to take up a lot of space in your car. This won't be a problem if you have sufficient cargo space.
Besides cargo space, you should also consider the length of the car. Remember that there are various surfboard lengths.
Your car should be able to accommodate your longest surfboards. Otherwise, you will not be able to transport the surfboard.
You may also look for a roof storage feature on the car.
This feature could serve as an alternative on the days when there is no space in the interior cargo area. It could also serve as an extra room when you are moving more surfboards than usual.
Of course, when choosing a car you will also consider features that satisfy your personal tastes.
You could focus on the speed, the color, the design, and the type of engine the vehicle comes with. But these features are secondary when looking for a suitable car for your surfboard.
9 2021 Vehicles That Are Great for Surfers
1. 2021 Volvo V60
The 2021 Volvo V60 is revered for practicality and luxury. It combines a beautiful exterior, a tasteful interior, and 2-engine options. There's the T5 model and the Cross-Country model.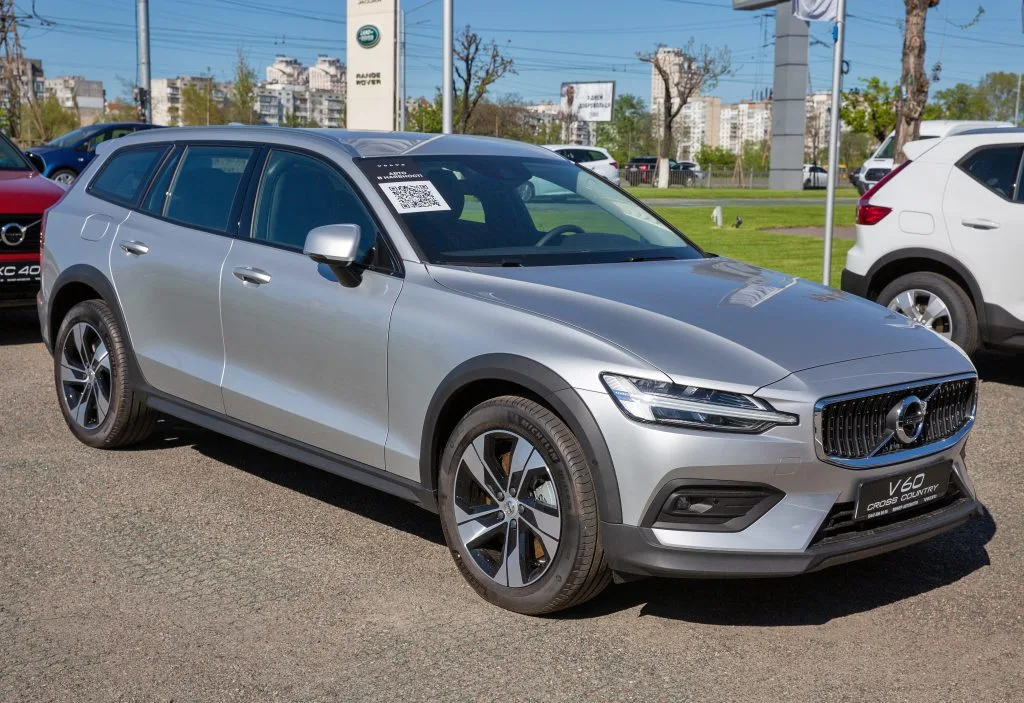 The 2021 Volvo V60 packs a cargo volume of around 23 cubic feet and has a length of 187.8 inches (15.6 feet).
To maximize the space for your surfboard, you may have to fold the seats down. Once that is done, the Volvo V60 should accommodate most boards easily.
This car has a 5-star safety rating from the National Highway Traffic Safety Administration.
It comes with an automated emergency brake, pedestrian detection, lane-keeping assist, and semi-automated driving mode. With all of these features, the 2021 Volvo V60 is safe and easy to drive.
2. BMW X5
If you are driving the BMW X5, you get to go around with that premium badge. But more importantly, you get a car with a tasteful interior and a smooth driving experience.
For onboarding your surfboard, the BMW X5 has a split tailgate. The split tailgate makes it easy for you to place your surfboard in the car.
But beyond that, it makes for a space that can serve as your changing room.
The car is a hybrid car: it can run on gasoline, and it is also powered by its battery. With the 24-kWh battery pack, the BMW X5 can drive for up to 30 miles.
3. Ford Flex
The Ford Flex is a crossover SUV with 3 rows and 7 seats.
With the seats folded, the Ford Flex offers ample space for your surfboard and other surfing gear. With the rear seats of this car folded, you get as much as 83.2 cubic feet of storage space.
Alternatively, you could place the surfboard on the roof, fasten it, and get on your way to the beach.
With the Ford Flex, you can make a choice from 2 engine options. You may opt for the 3.5L V6 engine, which offers you up to 287 hp. You could also choose the turbo 3.5L V6 engine, which produces up to 365 hp.
The Ford Flex comes with a 6-speed automatic transmission and an EcoBoost engine that is a delight if you want some speed.
4. 2021 Subaru Crosstrek
The 2021 Subaru Crosstrek is an SUV that offers considerable storage space on its roof for your surfboard.
The car combines ruggedness, safety, and some style. In fact, the manufacturer dubs it the safest Crosstrek so far.
Rightly so since this car comes with the EyeSight Driver Assist Technology. This tech is pretty useful as it reduces the chances of frontal impacts.
The chances of you colliding with another car in front of you are estimated to be about 85% less. This is made possible by the Pre-Collision ability of the EyeSight Tech, which applies the brake fully in emergencies.
5. 2021 Ford F-150
The Ford F-150 is a pickup truck with enough space for your surfboard in the back.
It also comes with decent off-roading power. So, even if you have to drive on rough terrain, you will not have a hard time.
The 2021 Ford F-150 has an improved interior. It now comes with the SYNC® tech, which allows hands-free control. With SYNC, you can make calls, control music, and do much more, all with voice commands.
Alongside the new 12-inch touchscreen, SYNC elevates the usability of the interior functions of this truck.
With the max recline seats in this car, resting after a long day surfing is even easier. The Ford F-150 is also one of the safest pickup trucks.
6. Mitsubishi L200
The Mitsubishi L200 is a pickup truck that has popularly been used for transporting surfboards.
Whether in the back or strapped to the roof, the Mitsubishi L200 has been useful for surfers.
Carrying your surfboard is not all this car is good for. If you need to tow something or carry heavy loads, the Mitsubishi L200 works simply fine.
The car also uses a 4-wheel drive system, making it great for navigating the sand.
7. Ford Ranger
The Ford Ranger is a pickup truck that offers some car-like experience. The car offers up to 270 hp and is great at haulage and towing.
With the Ford Ranger, you can either place your surfboard in the back of the pickup or fasten it to your roof.
The Ford Ranger comes with comfortable seats and a 2.0 L EcoBlue engine. This engine offers decent performance alongside good gas mileage.
The 2021 Ford Ranger comes with a Tremor Off-Road Package that offers body control against damage.
8. Toyota Prius V
The Toyota Prius V is a hybrid with up to 134 hp from a 1.8-liter 4-cylinder engine.
It is both easy on your pocket and the environment as it offers a mileage of 40 mpg highway and 44 mpg city.
The cargo storage of this car makes for a sufficient space for surfboards. But you can also choose to add an aftermarket roof rack that allows you to fasten the board to the roof.
You can also get the optional factory cargo storage. With this item, you can maximize the space in the car for other items.
9. Audi A6 Allroad 55 Premium Plus Wagon
This wagon comes with a 7-speed automatic transmission and runs on a 3.0L V6 engine. It features 5 seats and enough space for your surfboard.
You could work with the cargo space, or you can fasten your surfboard to the roof.
The Audi A6 55 Premium Plus Wagon is equipped with various safety and comfort features including parking sensors, lane departure sensors, and a navigation system.
You also get a well-furnished interior with heated leather seats and genuine wood consoles and panels.
Resources